Do you use Microsoft Office 365? And Zoom?
If you use Office 365 and use Zoom, be advised that there's a new phishing campaign designed with you specifically in mind, the goal of which is to ultimately make off with your Office 365 login credentials. Since the start of the global pandemic, Zoom and other video conferencing solutions have seen an explosion in the size of their user base, given that COVID-19 forced tens of millions to work from home.
In a nutshell, here's now the new campaign works
The hackers controlling the campaign kick things off by sending out what appear to be automated Zoom account suspension alerts. These are convincingly crafted and make it appear that your account has been compromised. The message is invariably either a carbon copy or a slight variant of the following:
"We've temporarily suspended your Zoom because your email failed to sync with our server within the past 24 hours. At this time, you will not be able to invite or join any call/meeting. Please verify your email:"
And then, just below the 'Please verify your email' bit in the body of the message, the hackers have included a button labeled 'Activate Account,' which a fair percentage of this message's recipients are clicking on.
Clicking on the button opens a browser tab and takes the email recipient to a well-designed spoof of a Microsoft Login page which asks for the user's credentials.
Naturally, if the user enters their login information here, nothing will happen except that the information will be stored in a database belonging to the hackers, who will no doubt use it later.
Our perspective
Not long ago, the FBI issued a warning about business-email compromise (BEC) scammers targeting users of popular cloud-based email services like Google's G-Suite and Microsoft's Office 365 to steal credentials for use in attacks down the road. This latest campaign certainly seems to add an exclamation point to the end of that warning. Stay on your guard and make sure your employees are aware.
~ As Hill Street Blues' Sgt. Esterhaus always advised: "Hey, let's be careful out there! " ~
By Denis Wilson and Melissa Stockwell
Thanks for reading this short post. For more tips on thriving with small business technology, check out the other blog posts at DWPIA Blogs. I am also available on LinkedIn, Facebook, and Twitter.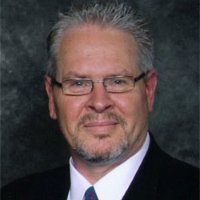 I'm Denis Wilson, President and Principal Consultant for DWP Information Architects. We build people / process / technology solutions to create better business outcomes for smaller enterprises in Los Angeles. We have created cost-effective office productivity and out-sourced service solutions for over 20 years, focusing principally on manufacturing and healthcare.  Our hallmarks are reliability, cybersecurity, and regulatory compliance.
I am also a published author and speaker, working extensively with business and professional associations to provide small business technology education programs.
Contact me if you would like me to speak at your association