DWP Information Architects was founded in 2002. We specialize in tailored IT solutions for small and medium manufacturers, engineering firms, and insurance companies in Ventura County and San Fernando Valley. We know what you need in the way of business process, compliancy, security, and cloud-based solutions. And can create a customized set of solutions that will fit you and your budget well. We guarantee your satisfaction with our solutions, or it's free.
Call for a free network, cloud or security HealthCheck today. We will run software checks to see how your network meaures up to industry standards and what you will need to do to rectify any weaknesses found. We can also assess what issues and savings might arise when looking at moving to cloud solutions. The report is yours to keep and there is no obligation.
---
Our team: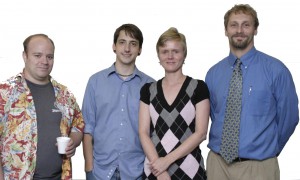 Denis Wilson - President and Principal Consultant (not pictured)
Sunny Morton-Wilson - Client Services Manager (not pictured)
Sunny Corelli - Accounting Services Manager

Jim Tressel - Support Services Manager
Tracy Taylor - Analyst Premises Networking
Jorge Garcia - Analyst Cloud Networking
---
We are proud members of:
International Association of Microsoft Channel Partners (IAMCP) represents Microsoft´s best of breed partners from around the globe providing a voice into Microsoft programs, to the IT community at large, as well as a vehicle to facilitate mutual growth and business development among partners.
Computer Technology Industry Association (CompTIA) the voice of the world's information technology industry. As a non-profit trade association, CompTIA advances the global interests of IT professionals and IT channel organizations and enable them to be more successful with industry-leading IT certifications and IT business credentials, IT education, resources and the ability to connect with like-minded, leading IT industry experts.
Association of Computer Repair Business Owners (ACRBO) dedicated to promoting industry education and improving consumer relations with professionalism and integrity.
SCORE Association is a nonprofit association dedicated to helping small businesses get off the ground, grow and achieve their goals through education and mentorship; and in association with the U.S. Small Business Administration (SBA).
---
We believe in giving back to our community. Our President has been on several boards and has been a member of several of several community organizations, including:
Rotary Club of Thousand Oaks - Board of Directors - Website
American Red Cross of Ventura County - Board of Directors - Website
Conejo / Las Virgenes Future Foundation - Board of Trustees - Website
City of Thousand Oaks: Business Roundtable - Chair / Member - Website
Greater Thousand Oaks Telecommunity - Board of Trustees
CSU Channel Islands: Business & Technology Partnership - Member - Website
California Lutheran University: Community Leaders Association - Member - Website
California Community Colleges: Information & Communications Technology - Advisory Board - Website
---
Our partners:
Microsoft - Small & Midmarket Cloud Solutions
Microsoft - Small Business Specialist
Microsoft - Cloud Customer Relationship Management
Lenovo - Authorized Reseller
RingCentral - Certified Communications Professional
Continuum Managed Services - Partner
StorageCraft - Authorized Reseller
D&H Distributing - Reseller
Sandler Partners - Reseller
Sophos - Authorized Reseller
BitTitan - Partner
SkyKick - Partner